Born Pretty Transparent Jelly Gel Polish JN05 (10ml)
₹599.00
2 in stock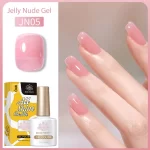 Born Pretty Transparent Jelly Gel Polish JN05 (10ml)
Is The Product Value For Money?
*
* Rating is required
Is The Product Of Good Quality?
*
* Rating is required
Rate Your Customer Service Experience
*
* Rating is required
Your review
* Review is required
Email
* Email is required
Add photos or video to your review
Born Pretty is a brand that caters to the needs and desires of nail art lovers around the world. Whether you want to create a simple or sophisticated look, Born Pretty has the right products for you. You can choose from a wide range of nail art products, such as gel nail polish, acrylic dip powder nails, nail polish,and more. You can also explore different colors, styles, and designs that suit your personality and mood. Born Pretty helps you to express yourself and unleash your creativity through your nails.
Close